Champion Bloodlines + Health Guarantee + Breeder Support
Our Puppies
01. Purebred Doberman Puppy
As of 2018 we only have purebred European Doberman puppies.  Euroline Dobermans are bred with temperament and health in mind. parents are selected from genetically superior Dobermans and have been bred for many years to improve health and temperament.
Why
03. Why own a Doberman?
Many people believe Dobermans are vicious, but that is not true. Dobermans are highly intelligent and affectionate dogs, that can be a loyal family dog, Watchdog, personal protection dog, Miliraty or police dog, and also a protection dog for your family. They are naturally bred to be a guard dog, so without any special training, they will try to keep people away from your property and belongings. This does not mean they will attack the strangers or have vicious personality. Every dog is special and raised differently.
Colours
02. What is the best Doberman Colour?
"Black and rust" and "Red and rust" are considered the best, the next on the list is Blue Dobermans. For red Doberman, the darker colours are the best and have the least skin issue. Our Red Dobermans are of red, or sometimes called chocolate colours.
We breed for "Black and Rust" (Black and tan) and "Red and Rust" however there are very few blues that come by rarely.
"Black and rust" has the most intimidating look, and considered the best choice as a protection dog because of their intimidating look.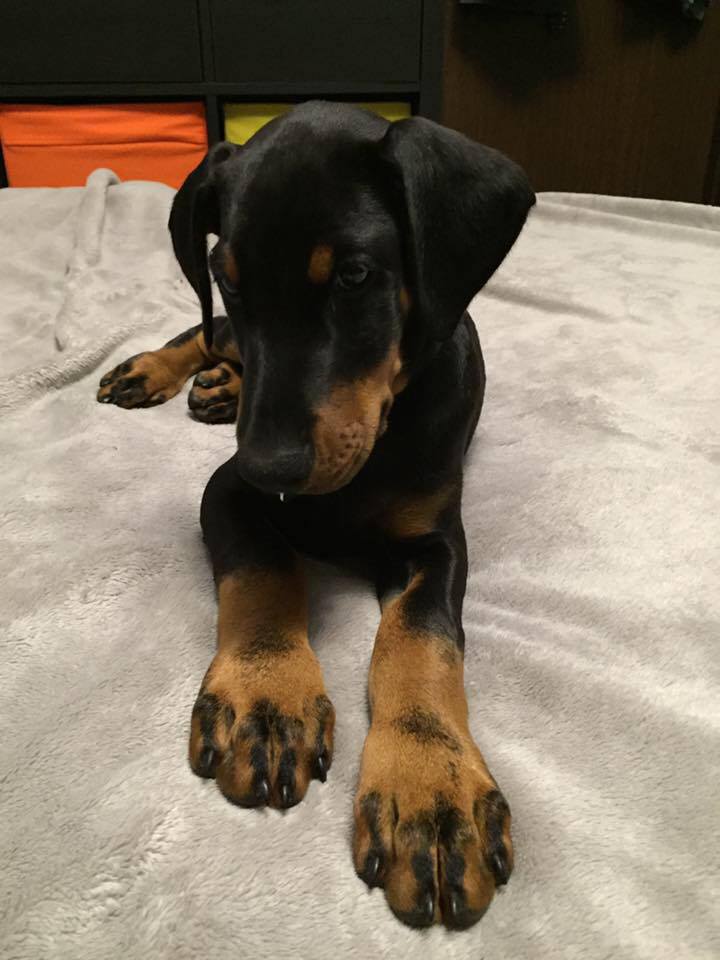 October 2018 - Doberman Puppies
Puppies are going home with their new best friends on Dec 8th, 2018.
End of year 2019 - Doberman puppies
We expect about 2 litter around January 2020.
May 2019 - DOBERMAN PUPPIES
we expect about 9 Doberman puppies. RSVP yours as they are sold fast.
Reserve your purebred puppy before its gone
We have a limited number of puppies are we focus on the quality of breeding than the number of puppies.